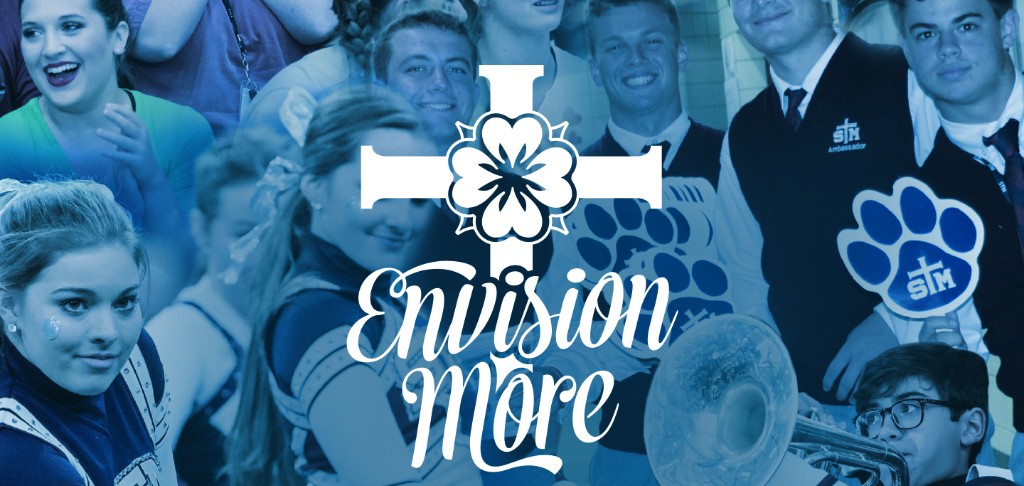 #icanEnivisonMore
This week we launched Envision More to our student body with a special student presentation after our 36th Anniversary Mass. The goal of the day was to educate our students on the four components of the capital campaign in a fun and memorable way.  This was accomplished through giveaways, photo-booth pics and the #icanEnivsionMore social media contest. Visit our Envision More web page to see pictures from the day and stay tuned, as you will soon hear more about the campaign.
Counseling TidBits
The Counseling Center would like to welcome all parents to a new school year.  Each week we will provide Counseling TidBits that will offer assistance for you and your student.  This week's focus is on Moodle, Plus Portal, and Teacher Tutoring times.    
MOODLE:  You may review your student's test dates, teacher tutoring times, etc. for each course through this online platform.  Ask your student to give you their login information.  You may get to Moodle through Quicklinks on the STM home page.

PLUS PORTALS:  This is where you can review your student's grades.  You will receive an email from Mamie Romero with a link to login to Plus within the next two weeks.  Your student will receive their own login information.

TUTORING:  Each teacher has specific tutoring times (as posted on Moodle).  If your student needs help, we encourage them to visit with their teacher first.  For students who need additional help, we have a list of private tutors on our webpage.  You may get to our tutoring list through the Academics tab on  www.stmcougars.net.
Meet the Cougar
Join us for Meet the Cougar as we recognize our fall sport athletes.  Seniors of these teams, spirit squads and band members will be introduced.  Meet the Cougar is Monday, August 20 at 6 pm in the Cougar Dome.
Kiwanis Football Jamboree
Football season starts this week with the Jamboree on Thursday, August 23 at Cajun Field. Tickets are $10 for all 3 games and may be purchased in the Athletic Director's office during school hours. Good luck to our Cougars as they take on Acadiana!
Campus Ministry Retreats
Kairos - registration forms are available for juniors and seniors interested in attending Kairos on September 22 - 24.  Deadline to register is September 14.
Quest - registration forms are available for freshmen and sophomores interested in attending Quest on September 29 - 30.  Click here to register for either retreat!
August 23 - Alumni Legacy Breakfast | 7 am Small Gym
August 23 - Mass | 8:15 am 

August 25 - Cougar Dance Mix Up | 9 am
August 25 - Freshmen Dance | 8-10 pm STM Cafe
September 6 - Back to School Night 6 p.m.