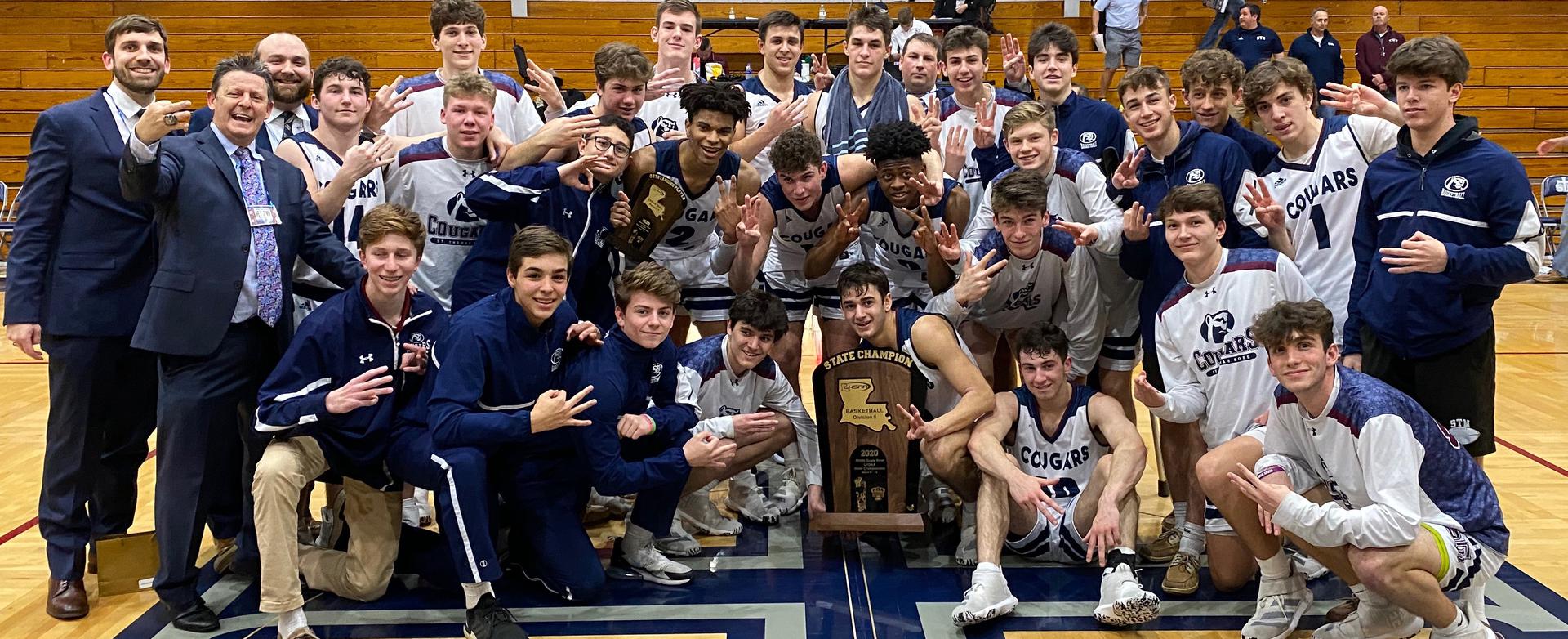 Congratulations to our boys basketball team for defeating University High (57 - 56) in the Division II State Championship game three years in a row!
Prayer to Mary, Health of the Sick
Pope Francis composed a prayer asking Mary, Health of the Sick, to intercede for us during this pandemic. Please join us to pray this prayer invoking Mary's intercession for ourselves, our community and for all who have been affected by this illness.
Preparedness for COVID-19
Our goal is to keep you informed during this time, so we ask that you check your emails daily and remind your child to do the same. As mentioned in Mrs. Leger's March 14th email, detailed information will be sent Tuesday, March 17 addressing concerns and outlining the process that STM will use as we move forward. We appreciate your patience as we work through the logistics.
Monday, March 16
School will be open from 8 - 10 am for students to quickly retrieve any books and technology items that may have been left in lockers. The library will be open during this time frame if students need to check out a new AR book. Uniforms are not required.
Ticket Refunds
Basketball championship refunds for admission tickets, reserve parking and crawfish boil will be availalbe at STM on Monday 8 am - 1pm and Tuesday 11 am - 1 pm. Please bring ticket to get reimbursement.
Counseling TidBits
Students should be on the lookout for an email from their counselor on how to turn in Schedule Requests which are due March 20.
Important Senior Information 📌
An email was sent to your senior on Friday, March 13 requesting one email address to submit to the Heymann. Please inquire about the email if you have not yet received it from your child. In addition, please check our website announcements for important senior information from now until Graduation. We will add pertinent information as we receive it to share.
Dance Team Tryouts - postponed
Cheerleader Tryouts - postponed
Year End Tax Statements from FACTS
Parents are able to print a year end summary of all payments processed through FACTS to be used when completing your Louisiana tax return. A printable payment summary is available on the blue "View Payment Summary" button of your FACTS account. Please visit https://online. factsmgt.com/signin/43Z78 or contact FACTS customer service at 1-866-441-4637.
Message from School Nurse
Please ensure that your child's immunization records are up to date for the 2020-2021 school year. All incoming juniors and any students who are 16 years old must have both doses of the meningococcal vaccine before the beginning of next school year.
Campus Hours - As a reminder, our campus is CLOSED from the hours of 4:00pm - 6:45am Monday through Friday. If your child is on campus during these hours or on Saturday, they must be under the supervision of a teacher, coach or moderator. The campus, including outside facilities, is CLOSED on Sundays. There should be no student on campus as there will be no activities held.