As the school year ends, we take this opportunity to wish you and your family a safe and restful summer. This will be the last More on the Way of this year; however, we will continue to communicate with you via email, so it is important that you notify us at stmcougasrs.net/update if your email address changes. As communicated with your student, tablets will not be turned in over the summer.
We will communicate, in the near future, the date and time your student will be allowed to return to campus to bring back textbooks, library books, athletic uniforms, etc., pay library fines, and clean out locker(s). A Back to School email will be sent to you in June with a link to the Back to School page. This page will give up-to-date information for next school year (ie. PE uniform purchase, textbook purchases, AR testing dates, etc). Please continue to check stmcougars.net as we will continue to update the school calendar, announcements and news.
Celebrating the Class of 2020
Although we can't be together, we are celebrating our graduates and their accomplishments with a virtual Commencement ceremony on Tuesday, May 19 at 6 pm. Our seniors received their diplomas on Saturday in a special ceremony. We invite you and your family to watch on the Cougar Cast YouTube channel. Congratulations and best of luck to our graduates!
Please share link and watch on Tuesday at 6pm https://www.youtube.com/watch?v=lOo7Wa2gQKQ&feature=youtu.be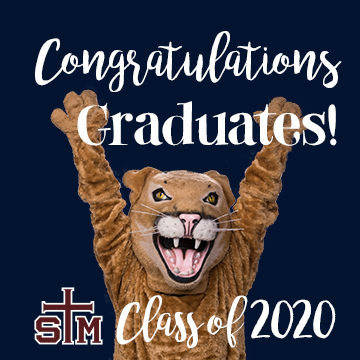 Parents of Graduates
You will receive a 5x7 print of your student receiving their diploma and a 5x7 print of student and parents at no charge. If you would like additional prints, please click here. If you have any questions please contact Jay Faugot Photography studio at 337-233-4333 or reception@jayfaugot.com.
A Message from the School Nurse
If your child has prescription medication in the nurses office, be on the lookout for an email from her regarding medication pick up.
Cast Your Vote for Advisory Council
It's time to vote for one elected position open on our Advisory Council. We have received many qualified nominations for this important role and want to thank all candidates.
Please click here to view the bios on all of the candidates and then click the vote link on the bottom of that page. Be sure to select one candidate. Once you hit the submit button, you will have cast your vote. Voting will open today, May 10 until Sunday, May 17 at 5 p.m.
Driver Education Registration - Only 2 spots left ~ class start Monday, May 25!
A state-certified Driver Education course is offered to anyone who is 15 years of age before August 1, 2020. The classroom phase (30 hours) will be held on May 25, 26, 27, 28 followed by the driving phase (8 hrs). The state mandated T.I.P. will NOT be required to enroll in the class due to OMV offices being closed at this time under the current COVID-19 situation. Click here for more information and to register.
U.S. Census 2020
If you have not done so already, please remember to complete the US Census questionnaire. The process is quick and secure. You can respond to the census in less time than it takes to finish your morning coffee. You'll still be able to respond by mail. Click here to complete the census online.
Campus Hours - As a reminder, our campus is CLOSED from the hours of 4:00pm - 6:45am Monday through Friday. If your child is on campus during these hours or on Saturday, they must be under the supervision of a teacher, coach or moderator. The campus, including outside facilities, is CLOSED on Sundays. There should be no student on campus as there will be no activities held.